"WAAAAAAAAAAAAAAAAH I HATE THE FREAKIN DUMB MARIO BROS GET THEM OUT GET THEM OUT DADDY NOW"
—Mario and Luigi Adventures to the next dimension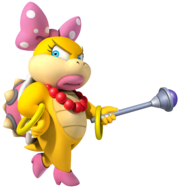 Wand (stolen from the king of Water Land)
Gadget Gauntlets (stolen from Dr. E. Lectrode)
Micro Bill Rifle
Putrid Piranha Knife
Abilities
Edit
Shell Drill
Tail attack
Magic Blast
Fiery Breath
Candy Ring Lasers
Micro Bill Blast
Putrid slash
Grapple Punch
Grapple Cliffhang
Appearences
Edit
Wendy appears in this game as a final boss.
Wendy has been confirmed to appear in Super Mario Moose as a boss. It is unknown which world she will be a boss of as of now.
Media Appearences
Edit
Wendy was going to appear in the cancelled show A Koopaling Life as a main character.