Weegee is a photoshop meme based on the avatar of Luigi found in the DOS version of the educational video game

Mario Is Missing!
Placing Weegee in an image creates awkward situations and a sense of discomfort. He is also often a subject of
facebombs
, as his stare will turn anyone into a replica of himself.
Weegee is based on a playable character in the DOS game
Mario is Missing
[1]
,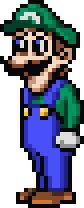 released by Software Toolworks in 1992. It was the only game to feature Luigi as a starring character until 2001's
Luigi's Mansion
. A version of this original game is currently available to play on Nintendo8.
[2]
The character's awkward posture and unwavering stare was first pointed out by a user named MonkeyInCloset on LUElinks forums, now known as End of the Internet[3], on August 11th, 2007. He also posted a vectorized version that would eventually become the exploitable that day.
Ad blocker interference detected!
Wikia is a free-to-use site that makes money from advertising. We have a modified experience for viewers using ad blockers

Wikia is not accessible if you've made further modifications. Remove the custom ad blocker rule(s) and the page will load as expected.