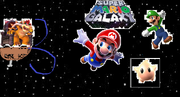 Super Mario Galaxy 3 is an 2018 game for the Nintendo 3DS made by Nintendo. It will be the first Mario 3D Series game ever to feature Daisy as a playable character in the game. The game's prologue area is the Mushroom Kingdom.
Storyline
Edit
Mario is strolling over the castle backyard, when, Mailtoad gets a letter about coming to the castle, celebrating the Starlite Comet Carnival, that is every 100 years. Mario finds a Starshroom with a orange Toad that tells about the attack of Peach's Castle. Mario jumps into the top, and they fly. The glass door will open, taking Mario inside. The Acorn Tree from New Super Mario Bros U will be crashed by the Starshroom. Then, they fly up to the skies, to the lone planet, the Planet Mushroom.
When Mario awakes in the planet, his friend Comet Toad tells about it, what the planet has been fixed to look like a Mushroom. Comet Toad grabs a hammer and fixes it very, very fast. If Mario power ups the Planet Mushroom using the Platinum Star, his galactic journey starts.
Galaxy List
Edit
Goomba Hill Galaxy

| No. | Mission Name | Objective |
| --- | --- | --- |
| 1. | Scaling the Goomba Hill | Climb to the top of Goomba Hill. |
| 2. | Mad Witch Goomba | Defeat Witch Goomba in the cave. |
| 3. | The Troopa Footrace | Win the footrace against Koopa the Quick. |
| 4. | Witch Goomba Speed Run | Complete Mad Witch Goomba in 5:00. |
| 5. | Goomba Purple Coins | Stomp Goombas to obtain 100 purple coins. |
| 6. | Captain Toad's Cannon Blast | Complete the course avoiding cannons. |
Choco Mountain Galaxy

| No. | Mission Name | Objective |
| --- | --- | --- |
| 1. | Riding the Choco Rapids | Ride the Chocolate River until the end. |
| 2. | Choco Mountain Climb | Climb the huge Choco Mountain. |
| 3. | Freezing the Chocolate | Use the Ice Flower to freeze the Choco Pond. |
| 4. | Choco Rapid on Daredevil | Complete Riding the Choco Rapids with 1 point of health meter. |
| 5. | Cosmochoc Racing | Win against Cosmic Mario in a race to the Choco Pond. |
| 6. | The Choco Dig Site | Find the Power Star hidden in the Choco Dig Site. |
Shell Slide Galaxy

| No. | Mission Name | Objective |
| --- | --- | --- |
| 1. | Sliding Around with Gold Shell | Find the Power Star surfing the Gold Shell. |
| 2. | Hookbill's Return | Defeat Hookbill the Koopa using Green Shells. |
| 3. | Hookbill's Speed Run | Complete Hookbill's Return in 4:30. |
Cosmic Cave Galaxy

| No. | Mission Name | Objective |
| --- | --- | --- |
| 1. | The Gust of Wind Mario | Complete the course as Wind Mario. |
| 2. | Cosmic Mario Battle | Defeat Cosmic Mario. |
| 3. | Cosmic Canyon Slide | Find the end of Cosmic Canyon, surfing the Gold Shell. |
| 4. | Purple Coin Dash | Find the slide and obtain 100 purple coins. |
| 5. | Wind Goomba Romp | Defeat 30 Goombas as Wind Mario in 1 minute. |
| 6. | Switch Star of the Cosmos | Find the Switch to make Power Star appear, and obtain it. |
Bowser Jr.'s Tower of Terror

| No. | Mission Name | Objective |
| --- | --- | --- |
| 1. | Bowser Jr.'s First Battle | Defeat Bowser Jr. in his airship. |
Sunshine Shoals Galaxy

| No. | Mission Name | Objective |
| --- | --- | --- |
| 1. | Terror of the Shoals | Defeat Creep Cheep. |
| 2. | Cheep Cheep's Pier | Talk to Cheep Cheep and find the Power Star. |
| 3. | Sandcastle Silver Stars | Collect 5 Silver Stars in the sandcastle. |
| 4. | Creep Cheep Speed Run | Complete Terror of the Shoals in 6:00. |
| 5. | Purple Coin Scramble | Obtain 100 purple coins. |
| 6. | Switch Star of the Shoals | Find the Switch to make Power Star appear, and obtain it. |
Delfinity Galaxy

| No. | Mission Name | Objective |
| --- | --- | --- |
| 1. | Luigi's Combat against Graffiti | Defeat Shadow Mario and save Luigi. |
| 2. | At the Isle Delfino | Complete the course. |
| 3. | Isle Delfino Speed Run | Complete At the Isle Delfino in 2:20. |
Sky Woods Galaxy

| No. | Mission Name | Objective |
| --- | --- | --- |
| 1. | The Star Climb | Complete the Canyon Course. |
| 2. | What a Wind Mario Storm | Reach the Power Star using Wind Mario. |
| 3. | Top Speed in the Treetop | Find the Power Star at the Tree. |
| 4. | The Cosmic Mario Climb | Race Cosmic Mario in the Canyon Course. |
| 5. | Wind Storm Speed Run | Complete What a Wind Mario Storm in 5:00. |
| 6. | Flying Crate Bustin' | Crash into 10 wooden crates. |
Meteor Debris Galaxy

| No. | Mission Name | Objective |
| --- | --- | --- |
| 1. | Setting the Wing Path | Fly as Wing Mario to the meteor. |
| 2. | Exploding the Trash Core | Explore the Core using Bob-ombs. |
| 3. | Bob-omb Speed Run | Complete Exploding the Trash Core in 4:10. |
Bowser's Drill Destructor

| No. | Mission Name | Objective |
| --- | --- | --- |
| 1. | The Big Drill Destructor | Defeat Bowser in his Drill Destructor. |
Toxic Honeycomb Galaxy

| No. | Mission Name | Objective |
| --- | --- | --- |
| 1. | Queen Bee's Toxic Honey | Destroy the Toxic Honey using Drench Flower. |
| 2. | The Wasp King | Defeat King Wasp. |
| 3. | The Chimp's Mandibug Challenge | Stomp Mandibugs in 180 seconds to earn more than 10,000 points. |
| 4. | King Wasp's Speed Run | Complete The Wasp King in 6:00. |
| 5. | Mandibug Romp | Defeat 30 Mandibugs as Rainbow Mario in 1 minute. |
| 6. | Pipe of the Secret | Find a Opal Pipe and complete the Secret Course. |
Freezy Heat Galaxy

| No. | Mission Name | Objective |
| --- | --- | --- |
| 1. | Fiery Peak of Baron Brrn | Defeat Baron Brrn. |
| 2. | Bowser of Heat and Ice | Find Heat Bowser and Ice Bowser in the galaxy. |
| 3. | Switch Hot into Cold | Find the Power Star in the Hot-Cold Planet. |
| 4. | Baron Brrn Speed Run | Complete Fiery Peak of Baron Brrn in 5:00. |
| 5. | Purple Coins Hot n' Cold | Obtain 100 purple coins in the Hot-Cold Planet. |
| 6. | Frostfire Switch Star | Find the Switch to make Power Star appear, and obtain it. |
Athletical Galaxy

| No. | Mission Name | Objective |
| --- | --- | --- |
| 1. | Walking down Discus Road | Get to the end of Discus Road. |
| 2. | The Chimp's Javelin Challenge | Complete The Chimp's javelin throw challenge. |
| 3. | Cosmic Mario Showdown | Race Cosmic Mario to the Fountain of Medals. |
Broiler Boiler Galaxy

| No. | Mission Name | Objective |
| --- | --- | --- |
| 1. | A Way through The Heat | Complete the course using Ice Mario. |
| 2. | Enter the Magmaargh's | Defeat Magmaastaah. |
| 3. | The Cave Temple | Get to the top of Cave Temple. |
| 4. | The Cave Temple Speed Run | Complete The Cave Temple in 5:10. |
| 5. | Dorrie's Purple Coins | Obtain 100 purple coins riding Dorrie. |
| 6. | Shoot to the Magma Meteor | Use the Slingshot to reach the Magma Meteor. |
Bowser Jr.'s Cannon Blaster

| No. | Mission Name | Objective |
| --- | --- | --- |
| 1. | Bowser Jr.'s Mighty Cannon | Defeat Bowser Jr. in his airship. |
Piranha Gizmo Galaxy

| No. | Mission Name | Objective |
| --- | --- | --- |
| 1. | Spin the Flip Blocks | Find the Power Star inside the Flip Block. |
| 2. | Angry Gear Piranha | Defeat Gear Piranha. |
| 3. | Flip the Gravity | Complete the Gravity Course. |
| 4. | Gravity Speed Run | Complete Flip the Gravity in 4:40. |
| 5. | Gizmo Purple Coins | Obtain 100 purple coins in Gear Planets. |
| 6. | The Mechanic Tundra | Get to the end of Mechanic Tundra |
Drift Way Galaxy

| No. | Mission Name | Objective |
| --- | --- | --- |
| 1. | Gone Adrift with Fluzzard | Race Fluzzard to the Stone Island. |
| 2. | Turn Off the Jet Stream | Turn off the stream using the On/Off Switch. |
| 3. | Fast Foes in the Stream | Complete Turn Off the Jet Stream with obstacles moving twice as fast. |
Space Core Galaxy

| No. | Mission Name | Objective |
| --- | --- | --- |
| 1. | Scrub Showdown | Defeat Mr. L and Mr. M to save AJ. |
| 2. | Yoshi's Adventure | Reach the Space Core using AJ, Yoshi and Bulb Berry. |
| 3. | Lava River Time Trial | Race the Gold Shell over the Lava River in 3:40. |
World Special
Edit
Pixel Path Galaxy

| No. | Mission Name | Objective |
| --- | --- | --- |
| 1. | Going Classic | Complete the course. |
| 2. | The Pixelated Bowser | Defeat 8-Bit Bowser. |
| 3. | Speed Run Classics | Complete Going Classic in 7:00. |