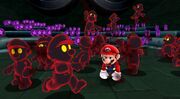 Don Spencer (Cameo): Welcome to Nintendo News!
Mario: What?
Don Spencer (Cameo): Because, he wants to go on this kingdom.
Mario: I'm turn off the TV.
TURNS OFF THE TV
Luigi: Hi! Mario!
Mario: Hi!
T.T.: Hello! Anybody there?
Mario: Wait!
OPENS THE DOOR
Peach: Wait! I am Peach!
Mario: Yes, I give you pasta for lunch.
Tom Cat (Cameo): Meow!
Mario: Oh No! It's a cat!
Peach: Run Away!
MARIO, LUIGI, PEACH AND T.T. RUNS AWAY
CRASH! BANG!
George Spartels (Cameo): Welcome to ABC News! All the Nintendo characters comes to visit to see Mario. And this time, it's Play School.
Goomba: Hey! What's going on?
Koopa Troopa: I am watching the TV!
Yoshi: Yoshi!
Goomba and Koopa Troopa: What the hell is that?
Presenters (Cameo): Open wide, come inside, it's Play School.
Colin Buchanan (Cameo): This one is tell is a fanon facts.
Angela Moore (Cameo): And that means you gonna vote off.
Bowser: Hahaha!
Toad: Help me!
Bowser: You gonna die!
Mario: Wait! Is a castle made by Bowser.
SMASH!
Mario: Uh oh! It's a clone!
Mario: Oh no!
Mario's Clones: Hahaha! I gonna get you!
Ad blocker interference detected!
Wikia is a free-to-use site that makes money from advertising. We have a modified experience for viewers using ad blockers

Wikia is not accessible if you've made further modifications. Remove the custom ad blocker rule(s) and the page will load as expected.