Richard T. Toadmeyer




Fear his stubble!

Born

Richard Tiberius Toadmeyer


April 2, 1996
Toad Town, Mushroom Kingdom
Residence
3651 east Shroom Street, Toadmeyer Manor.
Ethnicity
Caucasian
Occupation
Adventurer
Organization
Warp Pipe Corporation (for 1 Day)
Style
Fa-a-abulous
Influenced by
Christopher Moore, Poe, Douglas Adams, Isac Asimov,
Home town
Toad Town
Height
3' 11"
Weight
150 lbs.
Religion
Practical Agnosticism
Criminal status
No Criminal Record
Partner
Prabhu Koopa
Richard T. Toadmeyer is a Toad in the Mushroom Kingdom. Unlike most Toads, Richard has mastered the art of growing facial hair.
Personality
Edit
Richard is something of an idealist, and always optimistic. His humor, however, can become very dark. His preferred pasttimes are relaxing and exploring the Warp Pipe System. He's friendly, but a bit awkward around new people. He considers himself an introvert, as he prefers small groups of people to large, and will often go off on his own for a short time. He spends much of his time in the library tended by his uncle.
He's tall for a toad, and can hold his own in a fight, but he is somewhat out of shape. He's not qualified to join the Toad Brigade, and he's not interested anyway. He's very intelligent and can think his way past most problems and puzzles. He's also heavier than many toads, so while he can't jump as high, his Goomba Stomp is slightly more powerful.
Relations
Edit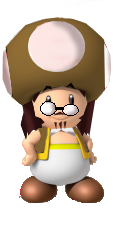 Toad
Birdo
Associates
Edit

Kamek
Kammy
Ad blocker interference detected!
Wikia is a free-to-use site that makes money from advertising. We have a modified experience for viewers using ad blockers

Wikia is not accessible if you've made further modifications. Remove the custom ad blocker rule(s) and the page will load as expected.