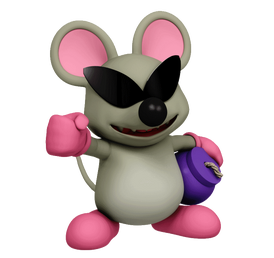 Mouser
is an evil humanoid mouse that works for
Wart
and lives in Subcon. His main weapon is the bombs that he tosses at his foes.
He is the last boss appeared in Mario and the Lava of Doom: The Great Hot Adventure!.
Appearances
Edit
Mouser appears as the boss of the first world "Remains of World War II", he throws bombs which were assumed leftovers from a country (most likely Nazi Germany).
Mouser is the final boss in this game.
In Mario & Luigi 3D, Mouser invades Dinosaur Land working for Tatanga. Instead of his normal generic bombs, he uses Bob-ombs, which are more dangerous. He is the first boss of the game. To defeat him, the player must either jump on his head three times or use a Yoshi to eat the Bob-ombs he tosses and spit them back out at him three times.
Template:InfoboxMouser replaces Vileplume in this hack. He is a Normal-type MarioMon that evolves from Little Skull Mouser starting at level 40. He is the final form of Little Mouser.
Base stats
Edit
| | |
| --- | --- |
| HP | 70 |
| Attack | 100 |
| Defense | 90 |
| Sp.Atk | 80 |
| Sp.Def | 70 |
| Speed | 100 |
| Total | 510 |
By leveling up
Edit
| Level | Move | Type | Pwr. | Acc. | PP |
| --- | --- | --- | --- | --- | --- |
| 1 | Quick Attack | Normal | 40 | 100% | 30 |
| 5 | Thief | Dark | 40 | 100% | 10 |
| 10 | Screech | Normal | - | 85% | 40 |
| 15 | Uproar | Normal | 50 | 100% | 10 |
| 20 | Snatch | Dark | - | -% | 10 |
| 24 | Take Down | Normal | 90 | 85% | 20 |
| 31 | Poison Fang | Poison | 50 | 100% | 15 |
| 37 | Super Fang | Normal | - | 90% | 10 |
| 40 | Egg Bomb | Normal | 100 | 75% | 10 |
| 44 | Bulk Up | Fighting | - | -% | 20 |
| 52 | Baton Pass | Normal | - | -% | 40 |
| 58 | Double-Edge | Normal | 120 | 100% | 15 |
| TM | Move | Type | Pwr. | Acc. | PP |
| --- | --- | --- | --- | --- | --- |
| TM01 | Focus Punch | Fighting | 150 | 100% | 20 |
| TM02 | Dragon Claw | Dragon | 80 | 100% | 15 |
| TM03 | Water Pulse | Water | 60 | 100% | 20 |
| TM04 | Calm Mind | Psychic | - | -% | 20 |
| TM05 | Roar | Normal | - | 100% | 20 |
| TM06 | Toxic | Poison | - | 85% | 10 |
| TM07 | Hail | Ice | - | -% | 10 |
| TM08 | Bulk Up | Fighting | - | -% | 20 |
| TM10 | Hidden Power | Normal | - | 100% | 15 |
| TM11 | Sunny Day | Fire | - | -% | 5 |
| TM12 | Taunt | Dark | - | 100% | 20 |
| TM13 | Ice Beam | Ice | 95 | 100% | 10 |
| TM14 | Blizzard | Ice | 120 | 70% | 5 |
| TM15 | Hyper Beam | Normal | 150 | 90% | 5 |
| TM16 | Light Screen | Psychic | - | -% | 30 |
| TM17 | Protect | Normal | - | -% | 10 |
| TM18 | Rain Dance | Water | - | -% | 5 |
| TM20 | Safeguard | Normal | - | -% | 25 |
| TM21 | Frustration | Normal | - | 100% | 20 |
| TM23 | Iron Tail | Steel | 100 | 75% | 15 |
| TM26 | Earthquake | Ground | 100 | 100% | 10 |
| TM27 | Return | Normal | - | 100% | 20 |
| TM28 | Dig | Ground | 60 | 100% | 10 |
| TM30 | Shadow Ball | Ghost | 80 | 100% | 15 |
| TM31 | Brick Break | Fighting | 75 | 100% | 15 |
| TM32 | Double Team | Normal | - | -% | 15 |
| TM33 | Reflect | Psychic | - | -% | 20 |
| TM37 | Sandstorm | Rock | - | -% | 10 |
| TM39 | Rock Tomb | Rock | 50 | 80% | 10 |
| TM41 | Torment | Dark | - | 100% | 15 |
| TM42 | Facade | Normal | 70 | 100% | 20 |
| TM43 | Secret Power | Normal | 70 | 100% | 20 |
| TM44 | Rest | Psychic | - | -% | 10 |
| TM45 | Attract | Normal | - | 100% | 15 |
| TM46 | Thief | Dark | 40 | 100% | 10 |
| TM48 | Skill Swap | Psychic | - | -% | 10 |
| TM49 | Snatch | Dark | - | -% | 10 |
| HM01 | Cut | Normal | 50 | 95% | 30 |
| HM04 | Strength | Normal | 80 | 100% | 15 |
| HM06 | Rock Smash | Fighting | 20 | 100% | 15 |