Miles "Tails" Prower (Known as Dr. T to Dimentio) is Sonic the Hedgehog's Sidekick, younger brother of Connie, Angela O'Haru's love interest and Son of Amadeus and Rosemary. He first debuted in Sonic the Hedgehog 2 when he was 8 years old. But he was 4 in Adventures of Sonic the Hedgehog Cartoon, 10 in Archie's Sonic the Hedgehog Comics,  and 11 in Super Princess Peach: The Day of Reckoning, Super Pauline: When Her Adventure Begins and Super Princess Peach: Ally or Enemy?
First meeting with the Mario Characters
Edit
Since his Crossover Debut in Mario & Sonic at the Olympic Games, he first met the Mario Characters at Beijing, China where the Olympics has happened.
Brainwashed into Dr. T
Edit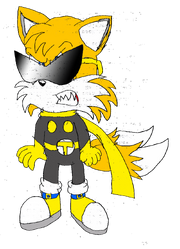 In Super Princess Peach: Ally or Enemy?, After leaving
Angela
's 11th birthday party, Tails was knocked out cold by the Bro-Bot L-Type controlled by the Re-Brainwashed
Mr. L
who is being watched by
Dimentio
. Dimentio and Mr. L's Bro-Bot  L-Type took the unconscious Mobian Fox to the Palace of Shadow in Rogueport when Puts his spore on top of Tails' head under Olivia's Orders. Then Dimentio Renamed him "Dr. T" also known as "The Golden Tornado" (Like Mr. L is the Green Thunder). Which means that when he jumps into Peach's scene, he shouts "GOOOOOOOOOOOOLLLLLDDD!!" (Like Mr. L shouts "GREEEEEENNNN!!" when hopping into the scene).
Current Life
Edit
He currently running around the world with Sonic, Amy, and Knuckles.