The article you are reading is created by Pinga Bird Games from Pinga Bird, Inc.. Which means, that you, and I am talking to you <insert name here>, only can edit if your a member.
Mario Slam Basketball 3DS
(Mario Hoops 3on3 3DS, in the US) is the squeal to Mario Slam Basketball (Mario Hoops 3on3 in the US) from the Nintendo 3DS.
Playable Characters
Edit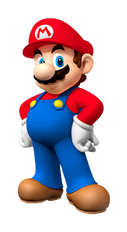 Luigi
Peach
Daisy
Yoshi
Wario
Waluigi
Bowser
Toad
Bowser Jr.
Donkey Kong
Diddy Kong
Koopa Troopa
Shy Guy
Unlockable
Edit
Birdo
Koopa Paratroopa
Fly Guy
King Boo
Boo
Dixie Kong
Funky Kong
Dry Bones
Hammer Brother
Petey Piranha
Toadette
Toadsworth
T.T.
Drumstick
Dry Bowser
Baby Mario
Baby Luigi
Pianta
Noki
Boom-Boom
E. Gadd
Mii
Pingu
Pinga
Robbie the Seal
Michael Jackson
George Spartels
Banjo
Conker
R.O.B.
Mr. Game and Watch
Link
Samus Aran/Zero Suit Samus
Kirby
Fox McCloud
Pikachu
Captain Falcon
Ness
Jigglypuff
Princess Zelda/Sheik
Ice Climbers
Mewtwo
Marth
Ganondorf
Falco Lombardi
Young Link
Pichu
Roy
Ike
King Dedede
Lucario
Lucas
Meta Knight
Captain Olimar
Pit
Pokémon Trainer (Ivysaur, Squirtle, Charizard)
Solid Snake
Sonic the Hedgehog
Shadow the Hedgehog
Toon Link
Wolf O'Donnell
F.L.U.D.D. Court - Mario
Ghost Court - Luigi/King Boo/Boo
Yoshi's Island Court - Yoshi/Birdo
Castle Court - Peach
Wario Cave - Wario
Waluigi Pear - Waluigi
Shy Guy Forest - Shy Guy/Fly Guy
Monkey Land - Donkey Kong/Diddy Kong/Dixie Kong/Funky Kong
Daisy Garden - Daisy/Petey Piranha
Bowser Castle - Bowser/Bowser Jr./Dry Bowser
Hammer Castle - Hammer Brother
Koopa Beach - Koopa/Paratroopa/Dry Bones
Toad Park - Toad/Toadette/Toadsworth
Jungle Fall - T.T./Drumstick
Mii Channel - Mii
Leaf Arena - Bosses
Water Arena - Bosses
Flame Arena - Bosses
Rainbow Arena - Bosses
Starman
Mushroom
Speed Mushroom
Triple Speed Mushroom
1-Up Mushroom
Mega Mushroom
Lightning
Fire Flower
Shells
Red Shell
Triple Red Shell
Green Shell
Triple Green Shell
Blue Shell
Triple Blue Shell
Bob-omb
Banana
Triple Banana
Ice Block
Blooper
Oil Stick
Missle
Leek
Triple Leek
Mushroom -
Flower -
Star -
Special -
Shell -
Banana -
Leaf -
Lightning -
Rainbow -
Ad blocker interference detected!
Wikia is a free-to-use site that makes money from advertising. We have a modified experience for viewers using ad blockers

Wikia is not accessible if you've made further modifications. Remove the custom ad blocker rule(s) and the page will load as expected.