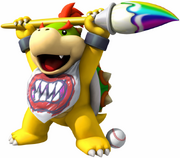 Family Battles: Bowser vs Sowser is a game where
Bowser
and the Koopalings go against
Sowser
and the Loopalings. Bowser Jr. is the judge and he has a paint brush to start it off and he will randomly shoot paint at the contestants.
Contestants
Edit
Bowser
Sowser
The Koopalings
The Loopalings
Bowser Jr.
Peach Casle
Tower 1-World 1
Tower 2-World 2
Tower 3-World 3
Tower 4-World 4
Tower 5-World 5
Tower 6-World 6
Tower 7-World 7
Tower 8-World 8
Bowser's Tower
Realese Date
Edit
April 3, 2017
Fire Flower
Ice Flower
Proppeler Mushroom
Super Mushroom
Mega Mushroom
Penguin Suit
Ad blocker interference detected!
Wikia is a free-to-use site that makes money from advertising. We have a modified experience for viewers using ad blockers

Wikia is not accessible if you've made further modifications. Remove the custom ad blocker rule(s) and the page will load as expected.