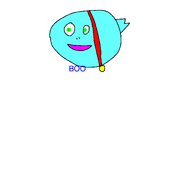 Boo is a Boo and is Iggy's pet.He acts like a dog but speaks like a human.He loves the word op.And like a human,he plays Super Smash Bros. Brawl with Larry.He is funny and radomly annyoings Iggy and his siblings.He has no fear of being looked at.He is stupid and rather words is spoiled.
Boo

Age:

Unknown

Birthdate:

Unknown

Owners:

Iggy

Size:

Normal Boo

Stupidness:

VERY Stupid
Ad blocker interference detected!
Wikia is a free-to-use site that makes money from advertising. We have a modified experience for viewers using ad blockers

Wikia is not accessible if you've made further modifications. Remove the custom ad blocker rule(s) and the page will load as expected.