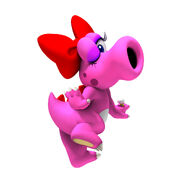 Birdo is a character who was first appearance in Super Mario Bros. 2 as a miniboss. In Super Pauline: When her Adventure Begins.... The Canon Birdo was Fully a Female Named "Princess Catherine Birdosetta" (or "Birdo for short") Who has a Crush on Yoshi, But he's not interested in the relationship
Appearances
Edit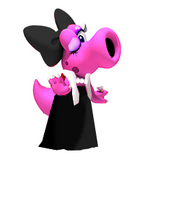 Birdo will appear in Mario All-Star Sluggers as a team captain. Her stats are:
Batting: 3/10
Pitching: 6/10
Catching: 10/10
Running: 5/10
Media Appearences
Edit
Birdo appears very briefly on an advertisement in the episode Super Chef Cook-Off
Ad blocker interference detected!
Wikia is a free-to-use site that makes money from advertising. We have a modified experience for viewers using ad blockers

Wikia is not accessible if you've made further modifications. Remove the custom ad blocker rule(s) and the page will load as expected.